Air Insulated Metal Enclosed MV Switchgears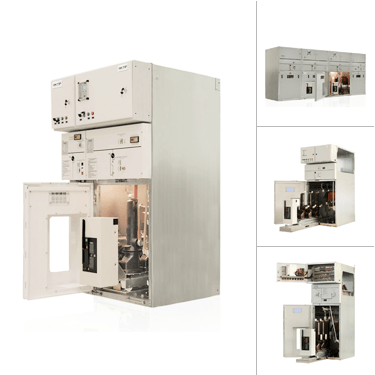 SME series Medium Voltage Metal Enclosed Switchgear are the switching and control switchgear which is manufactured between 1 kV and 40.5 kV voltage level according to IEC 62271-200 standard and TEDAŞ-MYD 95-007.E. SME series Metal Enclosed Switchgears are manufactured with LSC-2A service continuity, PI partitioning, AFL class internal arc resistant, IP 3X protection class, 3 independent accessible sections.
In the Metal Enclosed Switchgears, lateral mechanism SF6 gas circuit breakers, SF6 gas disconnector switch or Aktif brand SRS series air insulated rotary disconnector switch and Aktif brand SES series earthing disconnectors are used. In addition, according to customer requested can be used any brand and model protection relays, energy analyzers, electricity meters, current voltage test terminals.
SME series Metal Enclosed Switchgears are have 2 types;
SME-0 fixed trolley circuit breaker,
SME-1 withdrawable trolley circuit breaker.
Advantages;
Maximum operational safety with special hinged door design,
Safe electrical and mechanical Interlock systems do not allow to operational faults,
2 mm thick sheet metal as fully closed design,
Fast and error-free AC and DC power connections with plug-in CB sockets,
Fixed or withdrawable mechanism SF6 gas circuit breaker design,
SF6 gas or air insulated rotary disconnector switch option,
Grounding system with ensured continuity,
Proven reliability with unique design,
Low maintenance cost,
Package solution with Aktif SMK series monoblock concrete kiosks, SPK series prefabricated kiosks or SCK series steel kiosks,
Fully manufacturing in accordance with type tests,
Special product for seismic zones accordingly IEC62271-210 standard (EN60068, IEEE693, GR-63-Core-Zone4 standards options)
Tropicalization manufacturing option against corrosion,
5 year warranty option.
SME series Metal Enclosed Modular Switchgears provide ease of operation and assembly compared to other switchgear types and are preferred because of their economical features. SME series HV switchgears are applied in sectors such as building, electricity distribution, factories, hospitals, power generation plants, mining and harbour.
---
Products